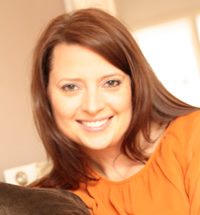 Share, educate and inspire. That's what Gluten Free For All TV is all about.  Bringing out the best of the best of gluten free eating, all together in one place.  So whether you are looking for the latest gluten free videos, product or restaurant reviews, business news or more, Gluten Free For All TV is the only channel to watch.
My name is Leslie, the host and co-creator of Gluten Free For All TV. I am an everyday cook, always creating and searching for meaningful content on the web. I want to share my findings with you and showcase the outstanding work gluten free cooks like yourself are creating on the web.
Let's be honest, there is a ton of fabulous content out there that's just itching to be found. There's a lot of filler too, most of which we busy moms, wives, husbands, dads and sassy singles do not have time to watch!  Gluten Free For All TV will let you watch real people share their real experiences eating out on a gluten free diet. Watch the best gluten free videos from across YouTube and Vimeo and cut through the clutter.
Personally, I am always adding new and exciting recipes, tips on how to save money and access those hard to find gluten free products and ingredients that will make your life that much easier.  When people think gluten free, they forget about some of our all time family favourites that are already gluten free, or with a slight modification can become gluten free.  So much so that even those without gluten intolerances won't even notice the difference.  I promise.
Gluten Free For All TV showcases the latest gluten free products, cook books and innovative recipes are hitting the market at a fast and furious rate.  Keep on top of the latest trends, nutritional information and what real people like yourself are saying.  See what the restaurant industry and food manufacturers are doing to tackle this serious health issue.
Living a gluten free lifestyle is hard enough so quickly accessing quality content that is useful, motivating and inspiring is essential for today's busy gluten free cook.  I hope my website and youtube channel make your life a little bit easier and less stressful.  Share with your family and friends.  Big love.