DS Gluten Free Shortcrust Pastry Review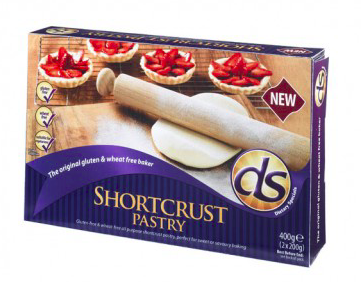 Watch the DS Gluten Free Shortcrust Pastry Review and see how well the gluten free pastry stands up to its gluten counterpart, Waitrose All Butter Shortcrust Pastry.
There are a lot of great ready made pastry doughs on the market.  Some are specifically for desserts while others are made for savory dishes like steak pie.  Celebrity chefs are fast becoming huge supporters of ready made pastry products as they are easy to use and the quality, in many cases, is better than making it from scratch.
As you will see in this review, there are a couple noticeable differences between the conventional pastry and gluten free.  It's important to know how your pastry will perform in your recipe as they can be quite different.
Key comparisons to consider:
Waitrose All Butter Shortcrust (contains gluten): 
Simply defrost and roll into desired thickness.
Lovely light texture resulting in a 'puff' normally found with a glutenous pastry.
Moist and stretchy, requires 'blind baking' in some instances.
Low ingredient count, all natural ingredients.
DS Gluten Free Shortcrust Pastry (Gluten Free):
Defrost and knead for around three minutes.  Will produce a smooth texture and prevent the crust from cracking.
Firmer texture with no puff.  Ideal for tart shells, but not for anything requiring a puff.
Slightly sweeter than the Waitrose brand.  Contains sugar so keep in mind when using this pastry in a savory dish.
Handles well and is very easy to use and roll.
Browns without needing an egg wash.
Holds shape well.
Texture: cookie like and crumbles when excessive pressure is applied.
High ingredient count – approx. 22 ingredients in total.
The overall verdict is a thumbs up!  The DS Gluten Free Shortcrust Pastry is ideal for sweet dishes and tarts.  Although it requires a bit more kneading, the gluten free shortcrust pastry handles well and tastes great.