Sticky Caramel Pork Belly Salad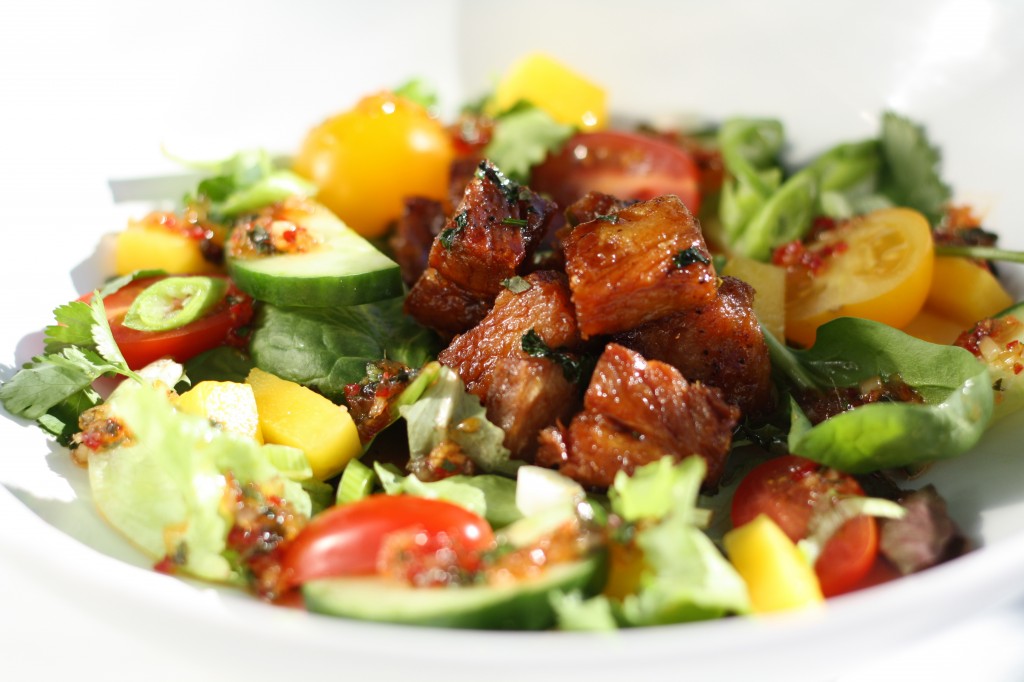 This Sticky Caramel Pork Belly Salad with mango is heaven on a plate. Made with gluten free soy sauce, the whole family can enjoy it. The sweet, caramelized pork sticks to your teeth while the chilli sauce cuts straight to your tongue. Combine this with the cool and refreshing mango, mint and cucumbers, this recipe is designed to impress.
It's also super easy to make  – the pork and sticky sauce can even be made ahead of time as it keeps well in the fridge.  This recipe is a great starter or main course salad if you are looking for something a bit heartier.
Thai Dressing:
Juice of two limes

2 red chillies
1 thumb of ginger
2 cloves garlic, very finely diced
2 shallots, very finely diced
100g palm sugar
50ml fish sauce
1 tbsp chopped fresh mint
1 tbsp chopped fresh coriander/cilantro
2 Kaffir lime leaves, finely chopped
Sweat off the shallots and garlic in a pan with a dash of sunflower oil.  After five minutes, add the fish sauce and cook for a further five minutes. Add the palm sugar and stir until dissolved. Finally, add the lime juice.
In a mini food chopper, whiz up the chilli and ginger until well chopped. Add to the pan along with the kaffir lime leaves.  Cook for a further five minutes.  Leave to cool.  Once cooled, add the chopped coriander/cilantro and mint.
Sticky Pork:
1 KG pork belly, skin taken off and excess fat removed
1 cup cold water
200g caster sugar
1 – 250g block of unsalted butter
100ml fish sauce
100ml gluten free dark soy sauce or Tamari
2 tbsp runny honey
1 tsp gluten free worcester sauce
2 Kaffir lime leaves, finely chopped
1 clove finely diced garlic
Salad:
A handful finely chopped coriander/cilantro

1 ripe mango
1/2 cucumber
A bunch spring onions
1 red pepper
Ripe vine tomato or organic cherry tomatoes. A handful or so.
Trim most of the fat off the pork belly and season with salt and pepper.  Place on a wire rack in a roasting tray to keep off the bottom of the pan.  Pour one cup of cold water into the tray and cover tightly with tin foil.  Bake at 180C for about 2.5 hours.
Once cooked through, remove from oven and let cool.  Carefully wrap in cling film and place in the fridge for a few hours to cool/set.
Place the roasting tray with the pork juices/water onto the hob (or transfer to a pot – whatever works best for you). Cut up the butter and place into the tray to melt.  Once melted, add the sugar and turn up the heat.  Stir continually for about five minutes, until the sugar has melted and it starts to turn a nice deep brown and caramelised.
Once the mix is deep brown in color (almost look like fudge), quickly add the fish sauce, gluten free soy sauce, lime leaves, chopped garlic, gluten free oyster sauce and stir rapidly. Turn off the heat and leave to cool.  Once cooled, add the chopped coriander/cilantro.
Remove the pork belly from the fridge and cut into 1 cm dice.  Fry the pork belly in a dash of sunflower oil until browned on all sides. Turn off heat and pour the caramel sauce onto the pork, being careful not to break up the cubes of pork.  Keep in a warmed oven until ready to use.
Chop the mango, cucumber, tomato, spring onions and red pepper into desired shapes and sizes for the salad.  Toss with the Thai dressing and some mixed leaves such as rocket, red chard and mizuna.
Finally, top the salad mixture with the warmed pork and serve.