Southern Red Thai Pumpkin Curry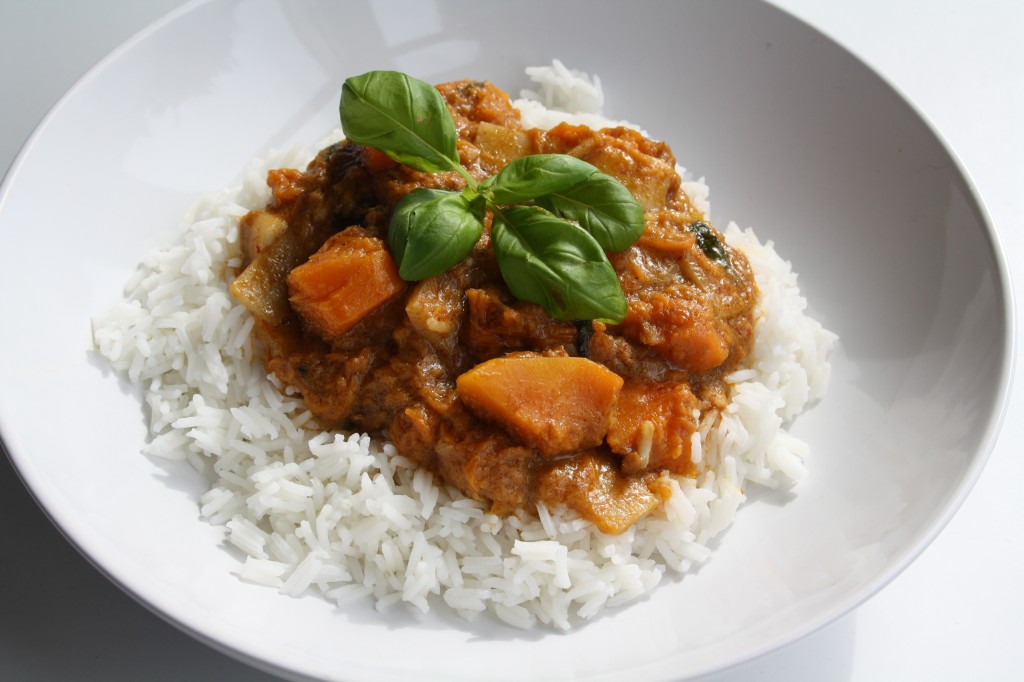 Made from a selection of fresh herbs and dried spices, this Southern Red Thai Pumpkin Curry is naturally gluten free and down right delicious.  This Thai Red Curry Recipe is fragrant and scrumptious, and can be made anywhere from mild to red-hot, depending on your taste.  For a hotter curry, use a bit more paste.
This vegetarian version uses butternut squash, but sweet pumpkin is awesome if you can get your hands on one.  Plus, you can add chicken for a heartier dish.  Feel free to play around with different veggies and combinations. There are lots of different variations out on the web so do some experimenting!
Ingredients:
1/2 cup (or more for spicy version) of red curry paste
1 can coconut milk (regular or low fat)
bunch thai or regular basil leaves
1 tbsp vegetable oil
fish sauce – 1 tsp
palm sugar- 1 tsp
1 cup peeled and cubed pumpkin or butternut squash
salt to taste
In a deep frying pan, add oil and about 1 tbsp coconut milk.  Add curry paste and cook for about three minutes.  You want to ensure the spices and flavours release from the paste as this is what will give your curry it's wonderful flavour.
Add remaining coconut milk, fish sauce and palm sugar.  Add squash or pumpkin and cover and let cook for about 20 minutes until cooked through.  Don't overcook as you'll be left with a mushy mess, but just enough that the squash is firm but done.
Remove from heat and mix in about 2 tbsp chopped basil.  Season with salt to taste and serve hot on a bed of basmati rice.
Leslie's Top Tip:  Curries also do well the next day so don't be afraid to make this recipe up the day before or save leftovers.  This dish makes enough for 4 people but if you don't want to share, you'll be able to enjoy this dish over a weekend – no problem.