Gluten Free Chocolate Eclairs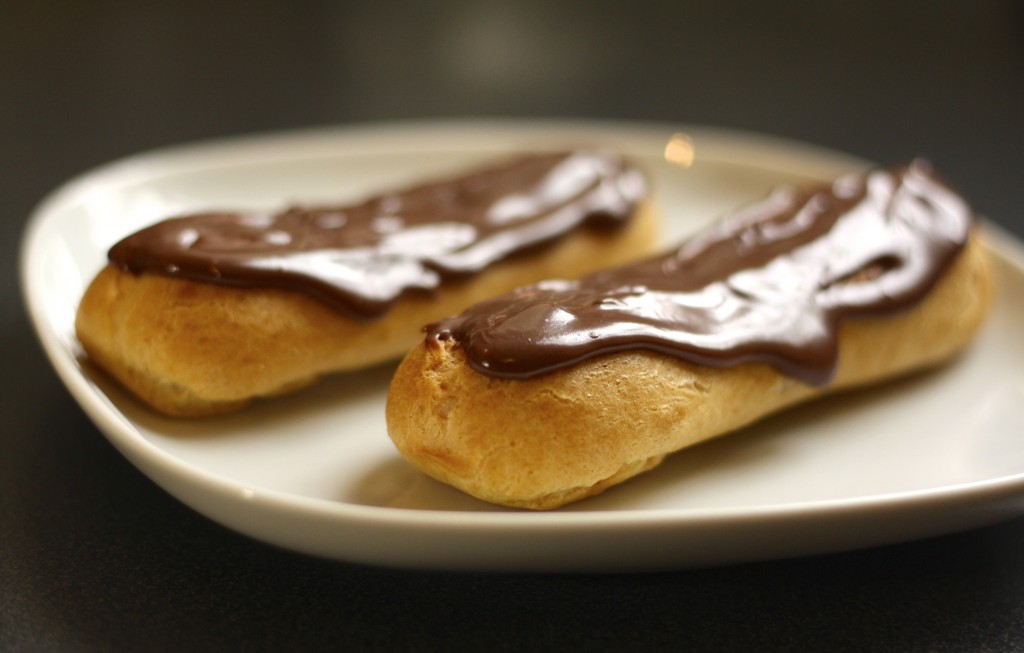 Gluten Free Chocolate Eclairs are even better than their gluten counterparts! Seriously. This choux (pronounced 'SHOE' pastry is really easy to make and can be used in a variety of ways. Try making traditional eclairs or something a bit more adventurous like a profiterole cream puff or cake! A croquembouche or croque-en-bouche is a French dessert consisting of choux pastry balls piled into a cone and bound with threads of caramel. It will wow your friends and family!
Choux pastry, or pâte à choux (pronounced: [pɑt a ʃu]), is a light pastry dough used to make profiteroles, croquembouches, éclairs, French crullers, beignets, St. Honoré cake, Indonesian kue sus, and gougères. It contains only butter, water, flour, and eggs. Like Yorkshire Pudding or David Eyre's pancake, instead of a raising agent it employs high moisture content to create steam during cooking to puff the pastry.
Because of the egg, the gluten free variety rises and performs just as well as the version made with gluten flour. The dough requires a bit more mixing, but the end product is similar in taste, texture and appearance.
Ingredients:
75 grams (2/3 cup) gluten free flour blend
50 grams (3.5 Tbsp) butter
150 grams (1 1/3 cup) boiling water
2 Free Range, Organic Eggs
1 tsp sugar (optional if you want a sweet pastry)
Chocolate Icing:
175 grams ( 1 1/2 cup) Icing Sugar

1 Tbsp Cocoa Powder (make sure gluten free)
2-3 Tbsp water (enough to desired consistency)
1 Tbsp Corn Syrup (*optional – will give icing a nice glaze)
Over medium to high heat, bring water and butter to a boil.Remove from heat and add gluten free flour blend. Mix well with wooden spoon until a dough ball is formed and the batter no longer sticks to the side of the pot.
Transfer to mixing bowl and let cool to room temperature. Add one egg at a time and beat well. Add the remaining egg and beat mixture until it becomes a smooth and silky consistency. Don't be alarmed if the mixture initially looks like overcooked scrambled eggs. Just keep beating with a mix-master for about 5 minutes.
Preheat oven to 200F or 395C. Line a baking sheet with parchment paper.
Transfer dough to a piping bag fitted with a large round tip. Gently squeeze onto baking tray in 4 – 6 long inch strips for eclairs, or smaller balls for profiteroles.
TOP TIP: Add a small baking tray filled with water at the bottom of the over. The steam will help turn your pastry a lovely golden colour and boost the pastries overall texture and taste. The moisture will also help the pastry rise.
Bake between 20 – 25 minutes until golden brown and cooked through. Allow to cool then fill with your favourite filling (whipped cream, custard or chocolate sauce). Finish with a coating of thin icing and keep in the fridge until ready to eat.
A lovely flour for this recipes is Nextjen Gluten Free flour mix.  I think it's only available in Canada at the moment but can be purchased on amazon via my affiliate link below. xx