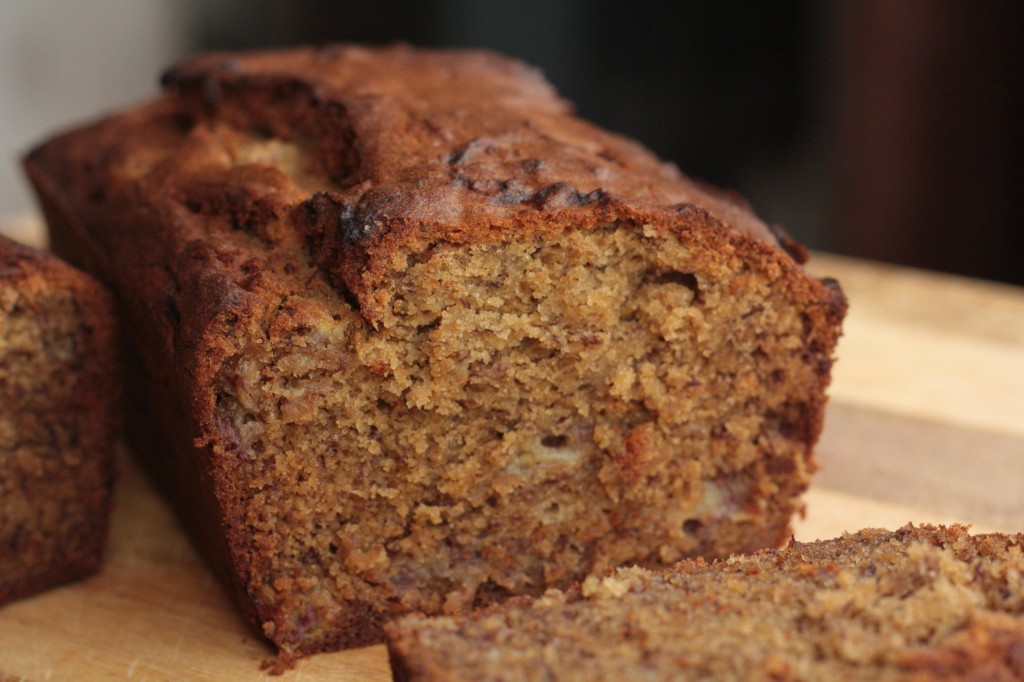 Only way to deal with over ripened bananas is making Gluten Free Banana Bread!  The photo above was baked with brown gluten free flour and it turned out nicely. It's equally as good with plain white gluten free flour as listed below.  I've recently discovered the Caputo brand of gluten free flour and it's epic!  Super light, stretchy and performs like conventional flour.  No, I don't work for them but I've included an amazon affiliate link below if you want to check it out!
For a little extra sweetness, add chopped dark chocolate or chocolate chips or add your favourite nuts.  Oh, so good!
Ingredients:
¾ cup unsalted butter, softened
1 1/4 cups gluten free flour blend
1 teaspoon vanilla extract
1 teaspoon gluten free baking powder
¼ teaspoon xanthan gum
¾ chopped dark chocolate (optional)
Method:
Preheat the oven to 180 C / 350F. Lightly grease a 23x13cm loaf tin.
In a large bowl, combine all dry ingredients. (except sugar)
In a separate bowl, cream together butter and brown sugar. Beat in the eggs, one at a time until batter is light and fluffy. With a spoon add mashed bananas and vanilla. Stir banana mixture into flour mixture and stir just to moisten. Pour mixture into prepared loaf tin.
Bake in preheated oven for 50-60 minutes or so, until a knife inserted into centre of the loaf comes out clean. Leave to cool in tin for 10 minutes, then turn out onto a wire cooling rack.
Try this for a neat kid friendly variation! Instead of baking in a loaf tin, make gluten free banana bread with gooey Nutella centre instead.
Line a 12 cup muffin tin with a paper liner.  Fill 1/2 with the gluten free banana batter, followed by a dollop of Nutella.  Then, cover with more gluten free banana bread batter until the Nutella is completely covered.
Bake for about 45 – 50 minutes or so, or until a toothpick comes out clean.  Note:  Because the muffins take up a smaller surface area, they won't take as long to cook as the full loaf.  This is a delightful gluten free variation that your kids and family will love!  These are great for lunches and snacks.

As I mentioned earlier in this recipe, I love this gluten free flour.  It's a game-changer so check it out!