Perfect Gluten Free Perogies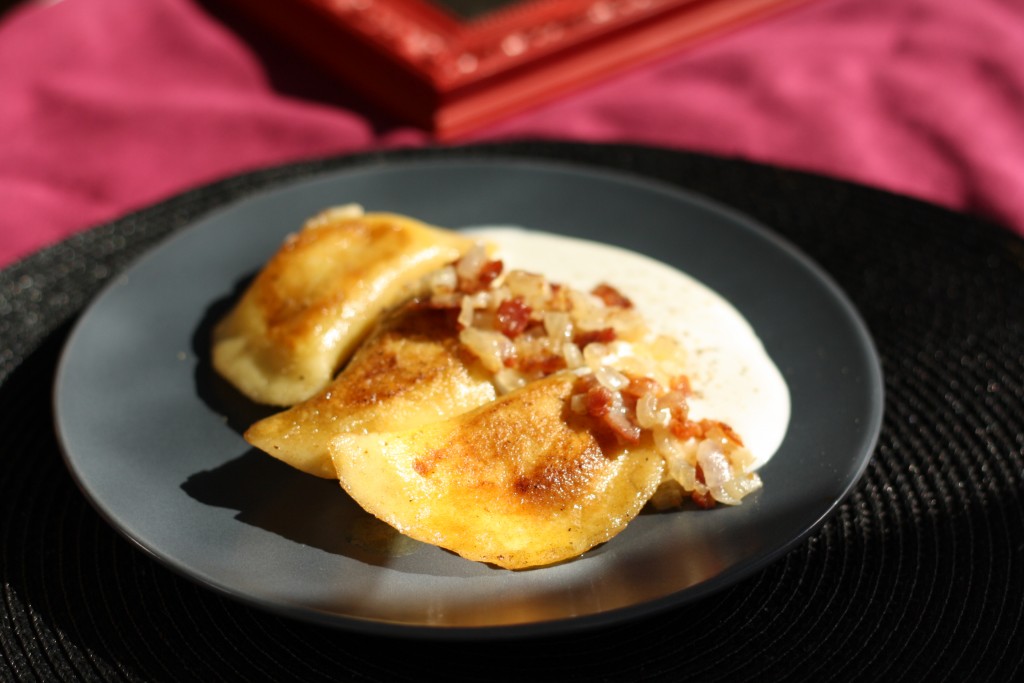 No really, these ARE Perfect Gluten Free Perogies. If you miss indulging in these cheesy little pockets of heaven, suffer no longer. Whether you enjoy them boiled or fried, plain or smothered in sour cream, bacon and onion, this gluten free variety is every much as good as anything your granny used to make.
Low fat they are not. Delicious they are!!!
I love the cheddar cheese and potato variety but you can fill this dough with any flavour you like. Use soy cheese instead of regular cheddar for a lovely gluten free, dairy free version.
Dough for about 3 dozen:
2 Cups All Purpose Gluten Free Flour Blend
1/4 Teaspoon Xanthan Gum (if your flour blend does not contain it)
1 Teaspoon Salt
1/2 Cup Cold Mashed Potatoes
3 Free Range Egg Yolks
1 Tablespoon Melted Lard, Cooled
1/2 Cup Cold Water
Filling:
2 Cups Mashed Potatoes (HOT)
1 Cup (or more) Grated Strong Cheddar Cheese
1/4 Cup Finely Chopped Onion, cooked until soft
Salt and Pepper to taste
To make filling, mix all ingredients together until well blended and the cheese is melted. Taste for seasoning and adjust the amount of cheese based on your liking. Set aside and let cool.
To make pastry dough:
In a large bowl, mix gluten free flour, salt and mashed potatoes as you would pastry to blend in the potatoes. You can use a pastry cutter or your hands. Combine until you no longer have any obvious signs of potato lumps. Beat egg yolks and add to mixture along with the melted lard and cold water.
Mix with a fork and then with your hands. Add more water or gluten free flour if needed. Your dough should be moist but not too overly sticky. If your dough is too dry, it may not perform well when building the perogies.
Turn out dough onto counter and knead like you would bread until smooth. Cover with your mixing bowl and let rest for at least a half an hour. With a sharp knife cut in half and roll out onto a floured counter (or onto non stick baking paper – this trick helps prevent the dough from sticking to the counter) to as thin as the pastry will hold. With a cookie cutter or glass, cut circles 2 1/2″ in diameter.
Hold the dough between your index finger and thumb and add a teaspoon or so of your favourite filling. With the left over egg white, moisten half the circle with the egg and fold over pinch the two sides together to create a perfect 'half moon' shape. Place on a cookie rack or baking tray lined with parchment paper and continue until done.
At this point, you can either freeze for future use (freeze on parchment/baking paper lined tray first) and then transfer to bags, thus preventing the perogies from sticking together), or boil immediately.
Bring a large pot of salted water to a boil. Add 6 – 8 Perogies at a time and cook until they start to float. Let them float for 30 seconds or so. Repeat. Eat immediately or fry in butter until golden brown.
Cooking Tips: The egg yolks, mashed potatoes and Xanthan gum do an amazing job at creating a soft, silky and flexible dough. I've made this recipe on a few occasions with different brands of gluten free flour and each have performed slightly differently. If your flour does not contain Xanthan gum, be sure to add 1/4 teaspoon to the mix.
Unlike doughs that contain gluten, this dough won't handle excessive stretching before small cracks start to appear in the dough. Don't be alarmed. Smooth out any small cracks with your finger and a bit of the egg white. This is usually a result of either your dough being too dry, or because of how your brand of flour blend responds to the recipe. Small cracks did not seem to affect the filling when boiled.
My suggestion is to fiddle around with the dough to see how well it handles stretching, bending and stuffing. See how thin you can roll it and even test one in boiling water to see how well it performs. I'd do this with a conventional recipe as well – after a few you'll get the hang of it and you'll be able to respond according to the temperament of the dough.
I was amazed how well this recipe tasted and turned out. The dough is soft, tasty and holds the filling extremely well. When boiled from fresh or frozen, it held together even after frying and microwaving.
Did You Know? The humble Perogy is enjoyed throughout many different cultures.
Perogy is also spelled pierogi, perogi, pierogy, perogy, pierógi, pyrohy, pirogi, pyrogie, or pyrogy. The Polish Pierogi are similar to the Russian pelmeni or or Ukrainian varenyky first boiled, then they are baked or fried usually in butter with onions – traditionally stuffed with potato filling, sauerkraut, ground meat, cheese or fruit. Of central and eastern European provenance, they are usually semicircular, but are rectangular or triangular in some cuisines.