Award Winning Gluten Free Spiced Ginger Cookies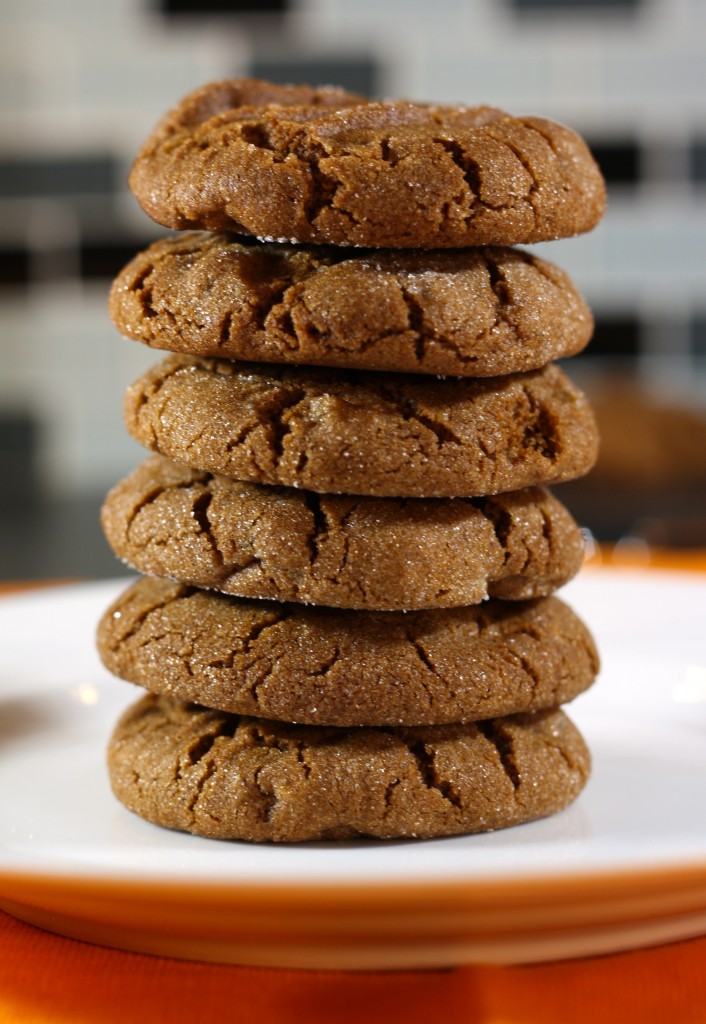 My Award Winning Gluten Free Spiced Ginger Cookies take top prize at every cookie exchange or cookie contest I enter. These are a gluten free variation of my favourite recipe that I know you'll love just as much as I do. They are soft and chewy with a lovely kick of spice.
The trick is not to over cook these award winning Gluten Free Spiced Ginger Cookies. Take them out of the oven when they still look slightly underdone. Once cooled, they'll firm up enough that they'll still be squidgy but not too overdone to be hard (that's unless you like your cookies with a good crunch! that's okay too).
The secret ingredient is crystallized ginger. You can find this at most supermarkets. It's sweetened, dried ginger that packs a punch. It's zesty with a kick of heat that warms the belly. There are all sorts of brands out there so just make sure the brand you buy is gluten free. If you can't find crystallized ginger, you can still make these award winning Gluten Free Spiced Ginger Cookies without the ginger. They are still good but I can't guarantee you'll take top prize at the next gluten free cookie exchange party!
Award Winning Gluten Free Spiced Ginger Cookies
Ingredients:
2 cups gluten free flour blend
1 teaspoon ground cloves
2 teaspoons baking soda (I have started using aluminum free)
1 teaspoon ground cinnamon
2 1/2 teaspoons ground ginger
3/4 teaspoon salt
1/2 teaspoon xanthan gum (if your flour blend does not already contain it)
3/4 cups finely chopped crystallized ginger (make sure your brand is gluten free)
1 cup finely packed brown sugar
1/2 vegetable shortening, softened
1/4 cup unsalted butter, softened
1 large egg
1/4 cup light or regular molasses
Sugar for dusting
First of all, grab a large bowl and mix the dry ingredients together well. Next, dust crystallized ginger some gluten free flour and finely chop. Add a bit more flour when needed – the flour will help prevent the ginger from sticking to your knife or together. Finally, add the chopped ginger to the flour mixture and set aside.
Using a mixer, beat the brown sugar, shortening and butter together until light and fluffy. Add egg and molasses and beat until blended. Add the flour mixture and mix until just blended. Cover with cling film and let set in the fridge for about an hour.
Preheat oven to 350F or about 180C Spoon sugar onto a small plate. Using wet hands, form dough into 1 1/4 inch balls and roll into sugar to coat. Place on a baking tray lined with parchment paper, spacing two inches apart.
Bake cookies for between 10 – 12 minutes or until the cookies have cracked on top but still soft to touch. Do not over bake. Finally, let rest for about a minute and then carefully transfer to a cookie rack to cool (careful, will still be soft).
Most of all, enjoy these Award Winning Gluten Free Spiced Ginger Cookies with cheese, hot cider or mulled wine!
Makes about 30 cookies.