Gluten Free Kiddie Corn Dogs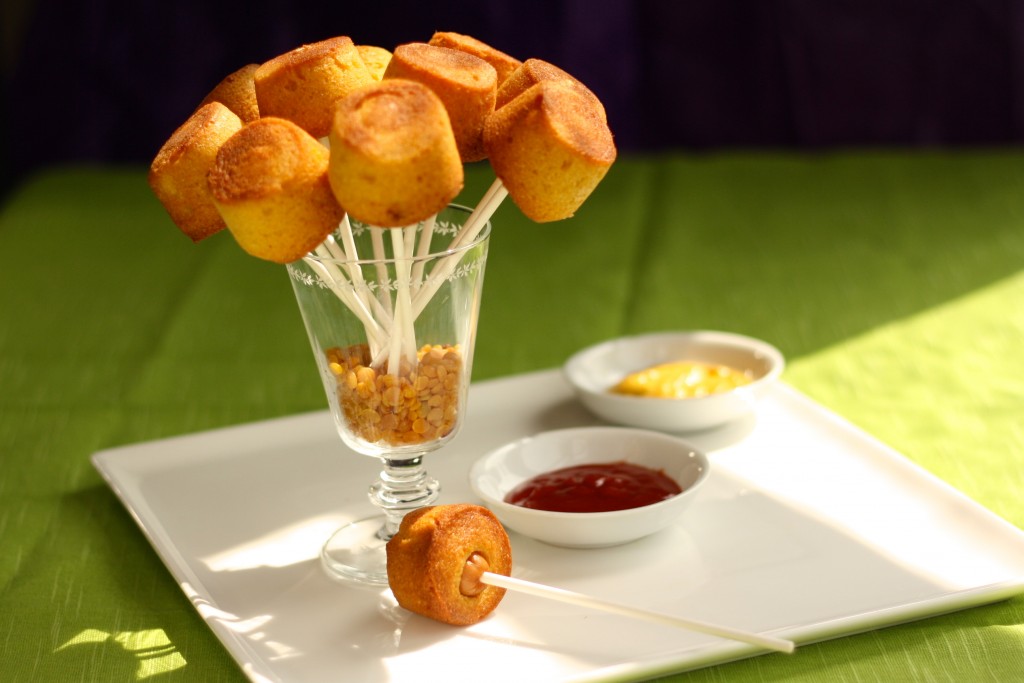 Nothing beats Gluten Free Kiddie Corn Dogs on a hot summer day. It reminds me of being a kid, roaming around the amusement parks with the smell of mini doughnuts, corn dogs and cotton candy lingering in the air.
Close your eyes and imagine the joyful screams of elated children and clammering of bells and buzzers, and these pint size gluten free treats will make you feel like a kid again.
Ingredients:
1/4 cup butter
1/4 cup white sugar (or less/none for more savoury dog)
1 egg
1/2 cup buttermilk (or 1/2 cup full fat milk with a good squeeze of lemon juice)
1/4 teaspoon baking soda
1/2 cup finely ground cornmeal
1/4 teaspoon Xanthan gum
1/2 cup gluten free flour
1/2 teaspoon salt
1 package gluten free Wieners
1 package of lolly pop sticks
Method:
Pre heat oven to 350C or 190 F.  With a bit of butter, grease a mini cupcake pan or line with small paper liners.  (Note: Paper liners can be removed once cooked if you want to go this route, although I am not sure if it will look as nice).
Cut hotdogs into 1 to 2 inch pieces, depending on the size of your mini cupcake pan. You want the pieces to be approximately the same height as the mini cupcake cups.
Melt butter in microwave and add sugar.  Mix well and set aside. In a separate mixing bowl, add the egg and beat until light and airy.  Add the buttermilk and give it a good stir until well blended. Finally, add the butter and sugar mixture.
In another bowl, combine the remaining dry ingredients until everything is well distributed. Add the liquid and stir until well blended and few lumps remain. Don't over mix it!  You want to ensure you have a few chunky lumps in the batter.
With a small spoon, fill each mini cupcake pan about 3/4 full.  Insert one piece of hotdog into the centre of each cup.  Don't worry that the batter doesn't cover the entire hotdog. Once baked in the oven, the batter will rise and bundle the little wiener nice and snuggly (:
Bake for about 25 minutes until golden brown and cooked through. Remove from the oven and insert a lolly pop stick into the centre of each dog.  Arrange in a glass or any type of fun container.
Serve hot with ketchup, mustard and a smile.  Enjoy!
A lovely flour for this recipes is Nextjen Gluten Free flour mix.  I think it's only available in Canada at the moment but can be purchased on amazon via my affiliate link below. xx