Gluten Free Chocolate Zucchini Cake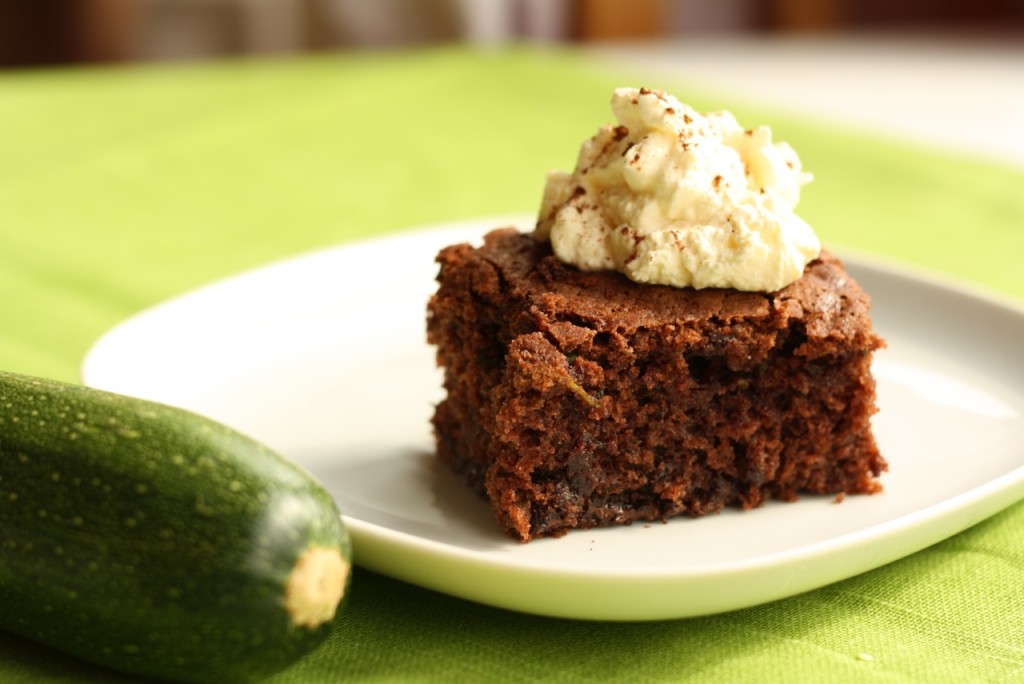 Firstly, Gluten Free Chocolate Zucchini Cake (or courgettes as they are known in the UK), in my opinion, is the best way to eat your veggies!  You can sum this cake up in one word – DELICIOUS!  Also, this can be baked in a bundt pan or a 9″ x 13″ square pan.  Furthermore, why not try making Gluten Free Chocolate Zucchini Cake cupcakes?  That's one way to get your kids to eat their veggies.
Ingredients:
1/4 cup butter

1/2 cup vegetable oil
1 3/4 cups sugar
2 eggs
1 tsp vanilla or almond extract
1/2 cup buttermilk
2 1/2 cups gluten free flour (I used a blend of brown and white)
1/4 cup gluten free cocoa powder
1 teaspoon baking soda
1/2 teaspoon gluten free baking powder
1/4 teaspoon xanthan gum
1/2 teaspoon cinnamon
1/2 teaspoon ground cloves
2 cups grated zucchini – skins on
1/4 cups chocolate chips
With a hand blender, beat together butter and oil.  Add sugar and mix well.  Add eggs, one at a time. Finally, add buttermilk (if you don't have buttermilk, you can use regular milk with a tablespoon of lemon juice) and vanilla.
In a large bowl, add all dry ingredients and mix well, ensuring everything is evenly distributed and there are no lumps. Slowly add to the wet mixture and beat well until light and fluffy.
With a large spoon, add zucchini and chocolate chips and mix well.  If your zucchini is overly watery, feel free to squeeze a bit of the water away before adding to the batter. It can be a bit moist – that's ok. The zucchini will create a really moist cake!
Pour into a greased & gluten free floured, or paper lined baking pan and bake at 325F or 190F between 45 – 55 minutes. You'll know when it's done when you insert a toothpick and it comes out clean.
Remove from oven and allow to cool. This gluten free cake is delicious on its own. Or feel free to serve with a dollop of whipping cream or ice with your favourite icing.
Enjoy!
A lovely flour for this recipes is Nextjen Gluten Free flour mix.  I think it's only available in Canada at the moment but can be purchased on amazon via my affiliate link below. xx