Golden Gluten Free Focaccia Bread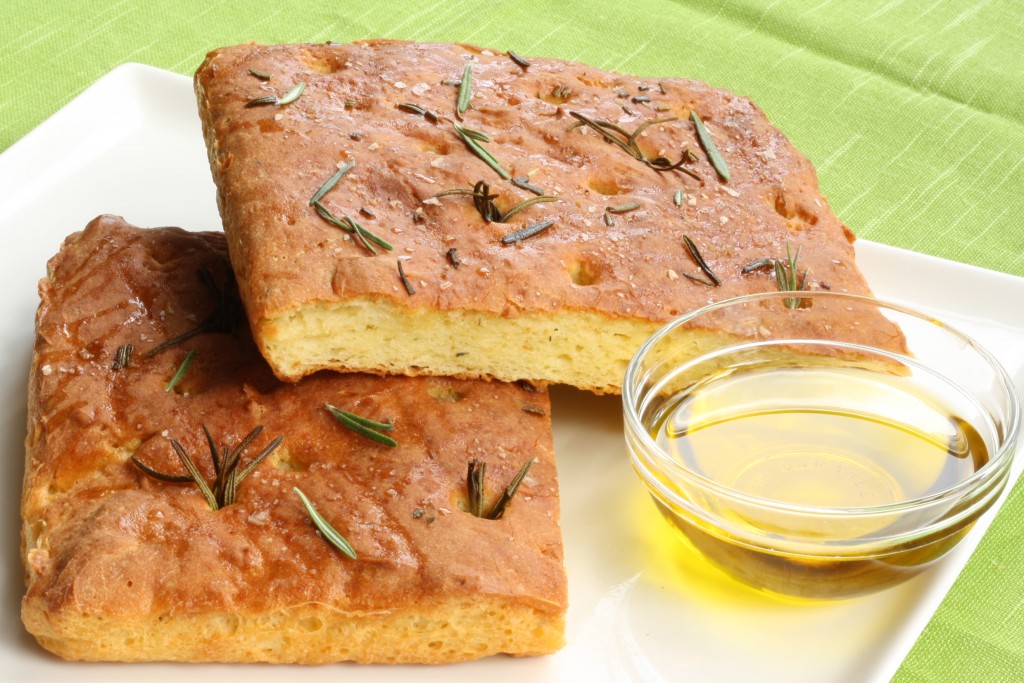 This Golden Gluten Free Focaccia Bread is quite remarkable. It is light and fluffy in texture and downright delicious. This version is made with traditional rosemary, but you can use a variety of toppings like onion, cheese, olives, vegetables or meat.
Focaccia is popular in Italy and is recognizable by it's signature 'dots'.  These dimples not only give focaccia it's unique look, they also help to hold all the loveliness of either the toppings, olive oil or dipping sauces (like olive oil and balsamic vinegar) if you wish to dunk!
Focaccia can be used as a side to many meals, as a base for pizza, or as sandwich bread. It's also an amazing bread for croutons!
Ingredients (makes one small 9″ loaf):
1 1/2 Cups Gluten Free Flour Blend

1 1/2 Teaspoons of Xanthan Gum
1 to 2 Teaspoons Onion Powder
1 Tablespoon Dried Thyme (crushed in the palm of your hand)
1 Teaspoon Salt
1 Teaspoon Sugar
1 1/2 Teaspoon Active Dry Yeast
3/4 Cups Milk (or milk alternative such as soy or almond) lukewarm temperature
2 Eggs
2 Tablespoons Olive Oil
1 Teaspoon Apple Cider Vinegar
Focaccia Bread Topping:
Additional Olive Oil

Coarse Sea Salt
Fresh Rosemary
Add sugar and yeast to the lukewarm milk.  Let sit for about 5 minutes or so, until yeast is activated and frothy.
In a large mixing bowl, add together remaining dry ingredients, mixing well with a whisk so that everything is evening distributed.
On medium speed, add eggs, olive oil and yeast mixture to your dry ingredients.  Mix well for a few minutes until combined.  Don't worry if the batter seems a bit on the wet side. It should have the consistency of mashed potatoes.
Pour in a parchment lined baking pan (about 9″ in size) and cover with a tin foil tent, ensuring there is ample room on the top so that the dough does not stick to the foil once risen.  Place in a warm area and let rise for 50 minutes.
Once doubled in size, dip the handle of a clean wooden spoon in olive oil, and randomly poke the bread dough to create those lovely little dimples.
Drizzle with a bit more olive oil then sprinkle generously with coarse sea salt.  Finally, randomly cover the bread with fresh rosemary leaves, by either inserting small sprigs into the newly created holes or by sprinkling.
Bake at 350F or 180C for approx 40 minutes or until golden brown and cooked through. Once done, remove from oven and drizzle with a bit more oil if desired. Let cool on a cookie rack and enjoy with friends!
A lovely flour for this recipes is Nextjen Gluten Free flour mix.  I think it's only available in Canada at the moment but can be purchased on amazon via my affiliate link below. xx
A lovely flour for this recipes is Nextjen Gluten Free flour mix.  I think it's only available in Canada at the moment but can be purchased on amazon via my affiliate link below. xx