Sweet Potato Feta Spinach Salad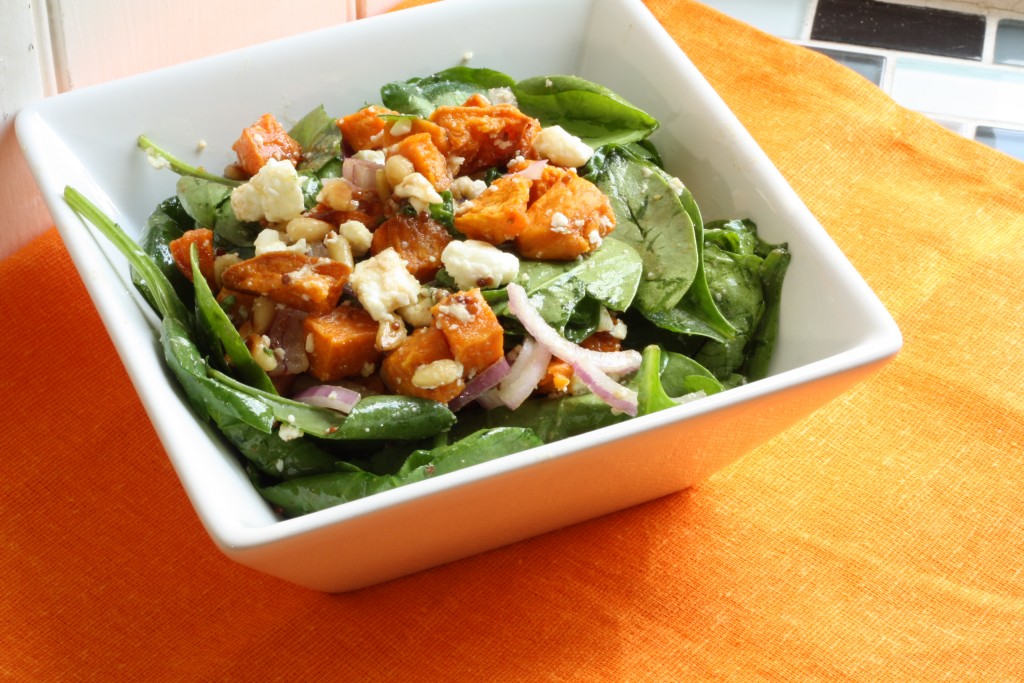 This Sweet Potato Feta Spinach Salad is a lovely meal in itself or great as a side dish.  The sweetness of the potatoes compliment the saltiness of the feta, while the spinach rounds out the dish making it light, fresh and healthy.
Ingredients:
2 large sweet potatoes, peeled and cubed
1/2 red onion, thinly sliced
Handful of pine nuts, lightly toasted
Handful of feta cheese
1 – 2 cups fresh spinach, washed and trimmed
Salad Dressing:
2 Tablespoons balsamic vinegar
1 Tablespoon runny honey
1 Tablespoon Dijon mustard
4 Tablespoons good quality olive oil
Salt and pepper to taste
In a small bowl, whisk together the salad dressing ingredients.  Set aside.
Peel and chop sweet potatoes into small (1 cm x 1 cm dice), toss in a bit of olive oil and bake in a 350C oven for about 40 minutes.  Be sure to give them a flip/stir half way so they don't burn. You want them cooked through and soft in the middle.  Remove from oven and allow to cool.
Prepare the rest of your salad.  Roughly chop 2 cups of spinach and combine with feta, pine nuts and sliced red onion.  Add sweet potato and toss in enough salad dressing to taste.