Gluten Free Bannock Bread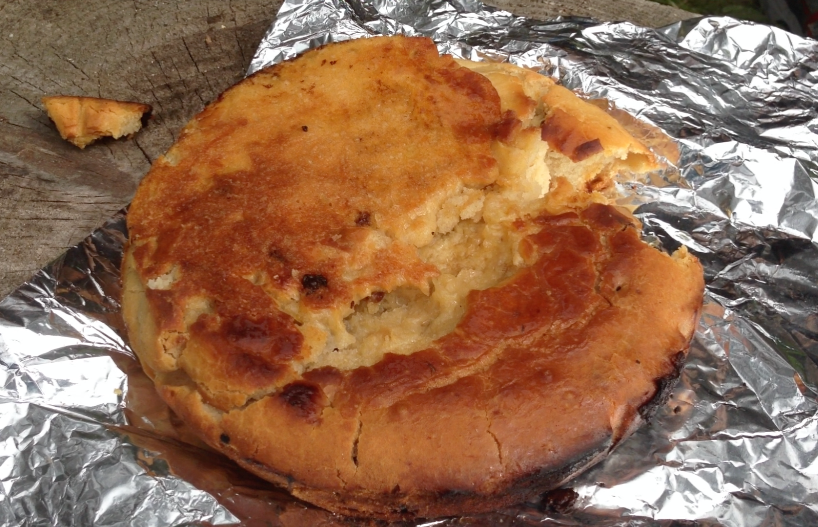 Gluten Free Bannock Bread is a great recipe to have on hand if you are heading out on a big outdoor adventure. It's fun to make and a great way to spend a lazy morning whilst camping. We made this bread one morning after a lovely weekend wild camping up in northern Scotland.
The measurements and cooking times are not exact so don't worry too much about that.  As you can see from my video, I added way to much water (against my advise not to!) LOL, but you just need to adjust cooking times. To make things easier, I'd just mix all the dry ingredients together at home and throw them all in one zip lock bag.  This way you just need to add the oil and water last minute.  The sugar and rum is also an option, so feel free to experiment based on your own personal taste.
Another top tip is to buy one of those cheap cake pans from the dollar store – these are great for cooking along a campfire as they are pretty sturdy and not a huge investment if they get get wrecked. I also brought along a large tin foil turkey pan to act as my 'oven'. I like these as I can load them up full of my camping kitchen gadgets (paper towel, cloths, pieces of foil and parchment paper etc), and then recycle once use.
Finally, it's always best to cook on the side of hot embers, not directly in flame or on top of hot coals. This is a fast track to burning your bread.  Continually move the bread so that all sides cook evenly and test it every once in a while to see if it's cooked through.  In the olden days, they used to make this bread wrapped on a stick, and cooked over the fire. I am not sure if this recipe will lend itself to that style of cooking, but if you do try it and it works, let me know.
Remember, this recipe is a guideline only – there is no right or wrong.
Ingredients:
About 3 Cups Gluten Free Flour Mix
1/3 Cup Powdered Skim Milk
3 Tablespoons Gluten Free Baking Powder
1/3 cup of Olive Oil or Lard
1 Teaspoon Salt
2-3 Tablespoons Brown Sugar (optional)
Handful of raisins
A good glug of rum!
Mix all ingredients together (except for the rum) until you get a thick dough consistency.  Line your pan with parchment paper and grease really well.  Transfer the dough to the pan and place closer to the hot embers.  Cover with the tin foil container to keep the heat in and bake for about an hour, turning occasionally.  You'll know it's done when its done.  Just need to keep checking it.  Cooking over a campfire is not an exact science but a test of patience. Once done, let cool and pour the rum over the bread for some extra zip!  Enjoy.
A fantastic gluten free flour is Caputo OO gluten free flour.  I've recently discovered this and highly recommend it.  Learn more on the Amazon affiliate link below.  It's great!!