Gluten Free Turkey Stuffing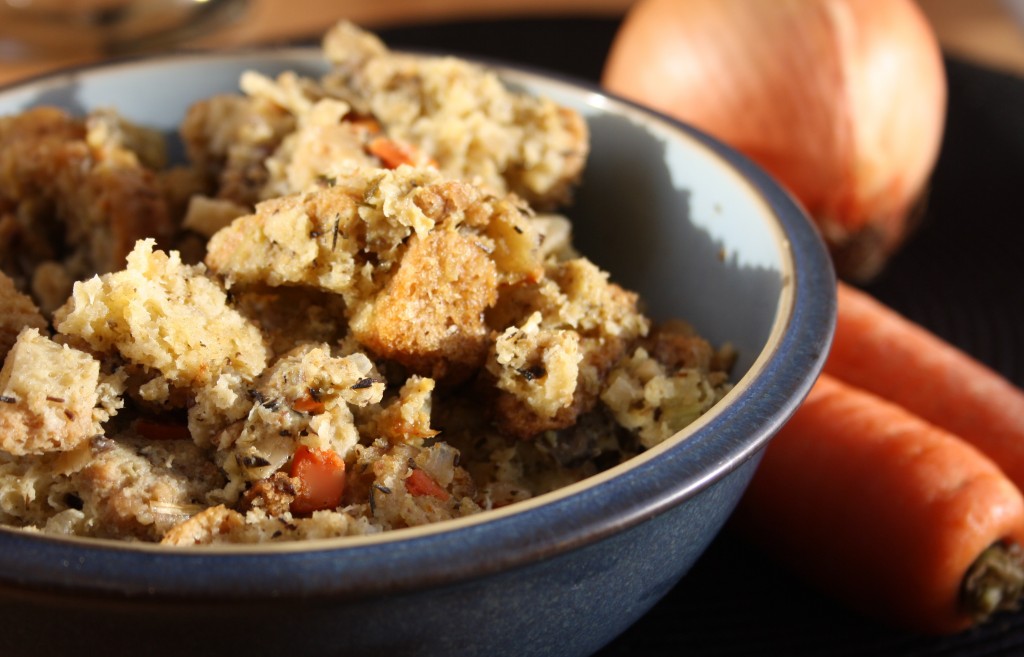 What is a Thanksgiving or Christmas dinner without indulging in some Gluten Free Turkey Stuffing smothered in gravy.  You can easily make a mouthwatering gluten free version in addition to your regular stuffing if you want a tasty gluten free version.
Ingredients:
1 loaf gluten free white bread. Cut into cubes and dried (I used Genius).
1 large onion
1/4 cup unsalted butter
4 ribs celery
2 carrots
1/2 cup sliced mushrooms
1/4 cup dried cranberries* (optional)
2 Tablespoons poultry seasoning
1 tsp salt
2 tsp freshly cracked pepper
1 large eggs
2  cups gluten freestock (turkey or chicken)
1/4 cup salted butter
To prepare the stuffing, preheat your oven to 350° degrees Fahrenheit.  Dice the onions, celery carrot and mushrooms.  Over medium heat, sweat veggies in a splash of olive oil and cook until translucent and mushrooms have released their water.
In the meantime, cube one loaf of white gluten free bread and toast in the oven until golden brown and most of the moisture has been removed from the bread. This can be done a day ahead if you think you'll be strapped for time.
When done, add to the bread and toss to combine. Whisk the egg and add to the mixture, and toss. Add dried cranberries and gluten free poultry seasoning, salt and pepper.  Drizzle with melted butter and transfer stuffing mix to a large casserole dish, pressing firmly.  Evenly pour approx 3/4 cup of stock over bread mixture, cover tightly with foil and bake stuffing for 30 minutes.
Then remove foil, testing for overall moisture.  Add the remaining stock to ensure all bread is moist, but not overly soggy.  Bake uncovered for an additional 30 minutes. Once the stuffing is golden brown, remove from the oven and let cool slightly before serving.