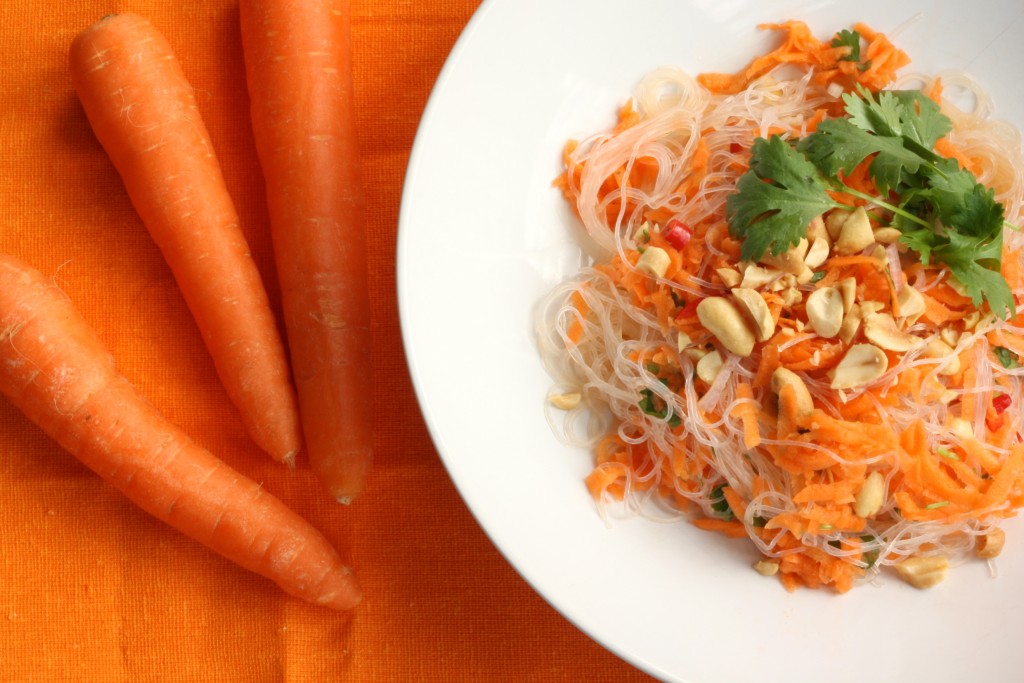 This Thai Carrot Noodle Salad is so light and refreshing, it can be enjoyed as a side dish or as a light main course.  This is another one of my naturally gluten free dishes that is healthy and packed full of vitamins.
This recipe was made with mung bean vermicelli noodles which are transparent when hydrated. You can also use regular rice vermicelli noodles as well which are not transparent, but equally as good.
Ingredients:
2-3 Carrots, peeled and shredded

1 – 2 Red Chilli Peppers
1 – 2 Shallots
Small handful of Coriander/Cilantro
Small handful of toasted peanuts
2 small handfuls or bags of Vermicelli noodles (rice or bean)
2 Limes
4 Tablespoons Fish Sauce (I used THAI TASTE which is gluten free)
1 Tablespoon Palm Sugar (can substitute brown sugar if desired)
In a bowl, prepare noodles as per the package instructions. Drain, cool and set aside.
In a small mixing bowl, juice two limes and add fish sauce and sugar. Mix well so sugar is dissolved as much as possible.
With a grater (or kitchen gadget of choice), peel and shred carrots. De-seed chilli peppers and thinly slice.  Also, thinly slice the shallots.  Add to the lime juice mixture and allow to soak for about 5 – 10 minutes.
Chop peanuts and chopped cilantro and put aside.
In a bowl, mix together noodles, carrots and dressing.  You may need to use your tongs or fingers to separate the noodles a bit. Add chopped cilantro and give it one last toss.
Finish with a bit more chopped cilantro, chopped peanuts and a squeeze of lime.
Serve cold.
Enjoy.
*I've read on a few different gluten free forums that there are a small amount of fish sauce brands that may contain gluten so always read the label to double check.   "Thai Taste" Fish Sauce specifically declares it's brand as gluten free product. (: