Delicious Gluten Free Carrot Cake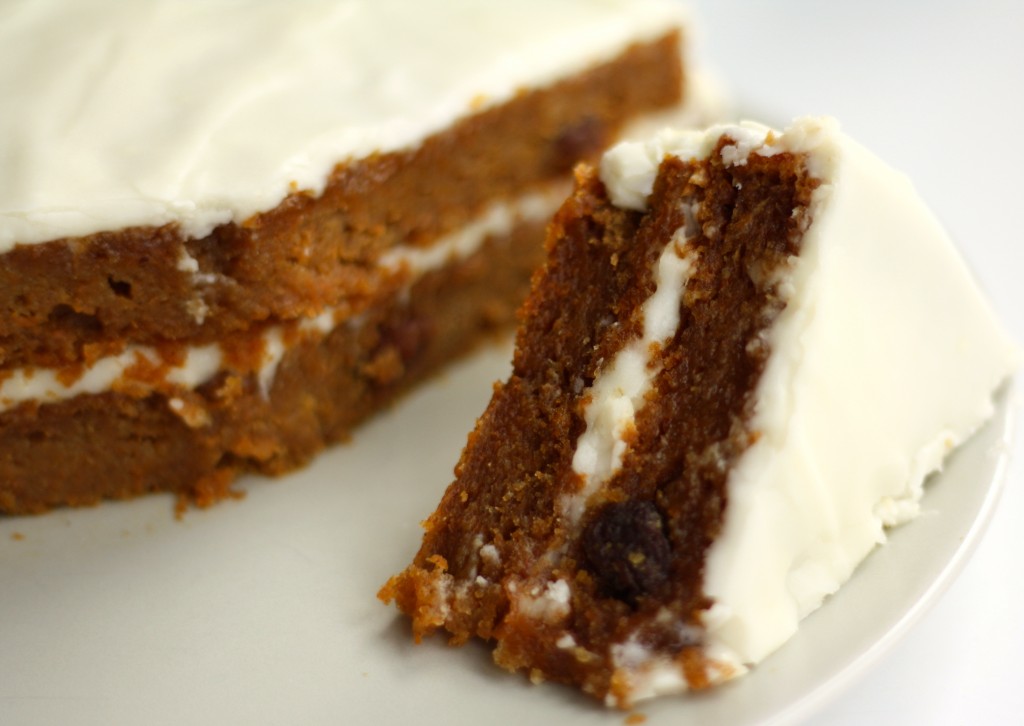 With Easter right around the corner, now is the time to dig into a big piece of delicious gluten free carrot cake. So light and fluffy, and packed full of vitamins, this is one way to indulge over the holidays while getting your veggies as well. The secret ingredient to this recipe is pineapple. Combined with the carrots, it adds a great sweetness to the cake that is sure to please.
Before starting, be sure to peel your carrots and shred very finely. You want to use the smallest setting on your electric grater or use the side of your hand held grater. You don't want mush, but a nice small grate that will cook well into the cake.
I've omitted walnuts from this recipe because of an allergy, but feel free to include nuts if you want a more authentic carrot cake. Cream cheese icing is traditionally served with Carrot cake and there are many great recipes on the internet.
This recipe makes 1 x 10 inch sheet cake.  I've separated the recipe into two small pans for a small, layered effect but you can bake in whatever style you'd like – even cupcakes would work well too!
Ingredients:

3 cups peeled and finely grated organic carrots (squeeze out excess water)

1/2 cup brown sugar

1/2 cup raisins
2 eggs

3/4 cups white sugar

1/2 cup vegetable oil

1 teaspoon vanilla extract

1/2 cup crushed pineapple, drained and excess liquid removed
1 1/2 cups all-purpose flour
3/4 teaspoons baking soda

1/2 teaspoon salt
1/2 teaspoon Xanthan gum

2 teaspoons ground cinnamon
Method:
Preheat oven to 350 degrees F (175 degrees C). line the bottom of two small 6 inch cake pans or one large ten inch pan with grease proof baking paper.  Butter the sides.
n a medium bowl, combine grated carrots and brown sugar. Set aside for 60 minutes, then stir in raisins.
In another bowl, Combine the flour, baking soda, salt xanthan gum and cinnamon.
In a large bowl, beat eggs until light.
Gradually beat in the white sugar, oil and vanilla.
Stir in the pineapple.
Stir into the wet mixture until absorbed. Finally stir in the carrot mixture and the walnuts if desired.  Pour evenly into the prepared pans.
Bake for 45 to 50 minutes in the preheated oven, until cake tests done with a toothpick. Cool for 10 minutes before removing from pan.  When completely cooled, frost with cream cheese frosting.
A lovely flour for this recipes is Nextjen Gluten Free flour mix.  I think it's only available in Canada at the moment but can be purchased on amazon via my affiliate link below. xx