Gluten Free Ginger Soy Wings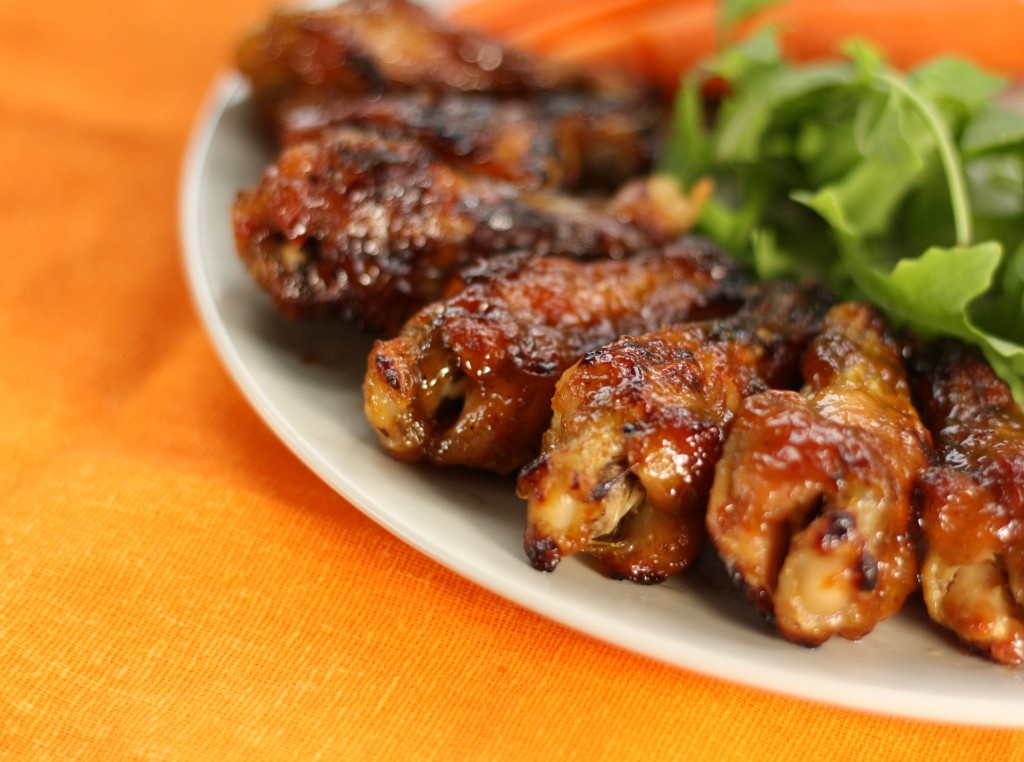 Gluten Free Ginger Soy Wings will not last long!  Make sure you make a ton of these as the guys will eat them up in seconds and you'll be left with nothing but bones! These are fabulous hot or cold and are great for sports parties, bbqs or pot luck lunches.
Ingredients:
3 lbs small chicken wings

1/2 Cup Sugar
3 Tablespoons Corn Starch
1/2 Teaspoon Salt
1/2 Teaspoon Ground Ginger
1/4 Teaspoon Pepper
2/3 Cup Water
1/3 Cup Lemon Juice
1/4 Cup Gluten Free Tamari or Soya Sauce (I used Bragg Liquid Aminos)
Cut wings in half at joint so you are left with the meaty bits. Throw away tips. Place on a non stick baking sheet and bake at 400C or 200F for around 15 minutes. Flip over and bake for another 15 minutes or so.
While the wings are cooking, mix the remaining ingredients in a pot over medium heat. With a whisk, continue to mix until mixture thickens. Boil for about 2 minutes.  Remove wings from over and brush generously with Ginger Soy mixture. Pop back into the oven for another 35 minutes or so, brushing frequently with sauce.  You'll eventually be left with a delicious golden caramelized glaze that is sticky and down right mouthwatering.
Remove from oven and serve hot in a chafing dish, or arrange on a platter with fresh veggies and dip.
TOP TIP:  If you have any left over Ginger Soy glaze, cover and keep in the fridge.  This can be used at a later date as a glaze on chicken breast, ribs or even fish.
I like to use Bragg Liquid Aminos in my recipes. It is a great healthy ingredient to add to your meals and is naturally gluten free. It can be used instead of gluten free Tamari as it has a bit of a milder taste but stronger than conventional gluten free soy sauce.