Gluten Free Life Changing Bread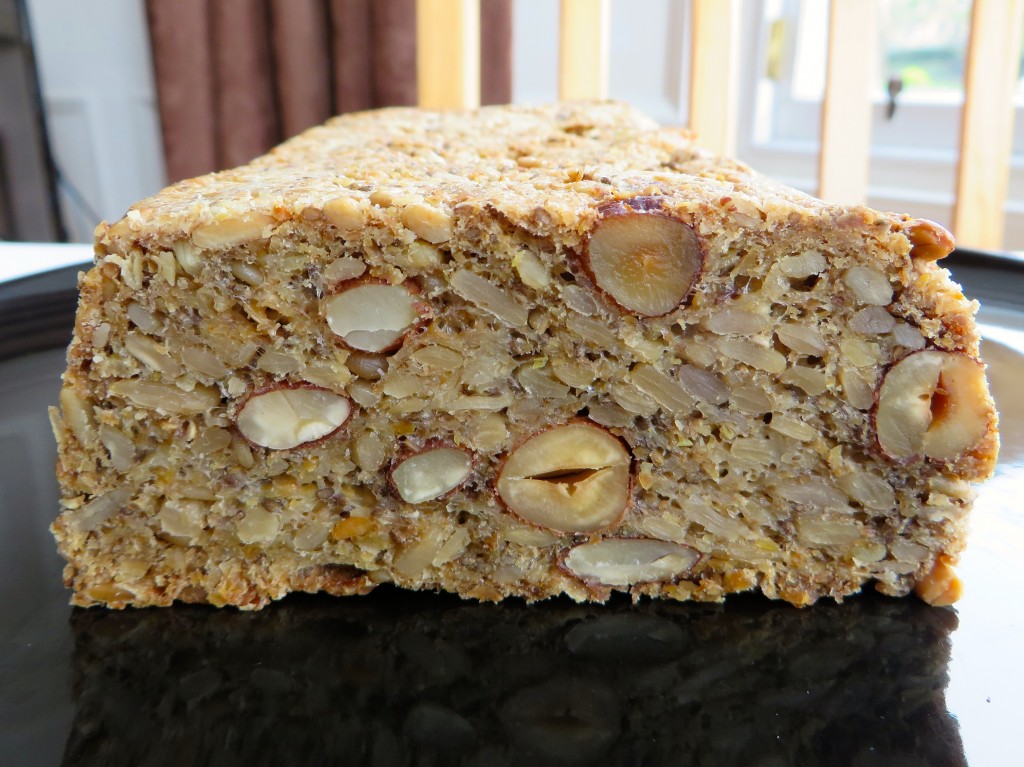 Gluten free life changing bread will indeed change your life. Well maybe not that much but you'll never think twice before whipping up a loaf on a busy week night or lazy Sunday morning.
The neat thing about this recipe is that it is really easy, packed full of nutrients and doesn't require any raising agents. After a while, you'll have this recipe memorized and be able to whip up a batch in no time. All you need is a bowl, spoon and pan. Heck, you can even mix up a batch right in the pan!
It's a dense bread and extremely satisfying and versatile. A versatile, wonderful bread served plain with bread and butter, or buried under heaps of pate or other savoury toppings. You can also enjoy it toasted. The flavour changes completely when the nuts turn golden brown and toasted. You may want to try some with almond or peanut butter and a dobble of jam. Yum!
If you have one, most people recommend using a silicone pan as it's bendy and the bread releases well. I didn't have one of these so just used a regular bread tin lined with parchment paper that worked really well! You can even just grease well with coconut oil and this will work too.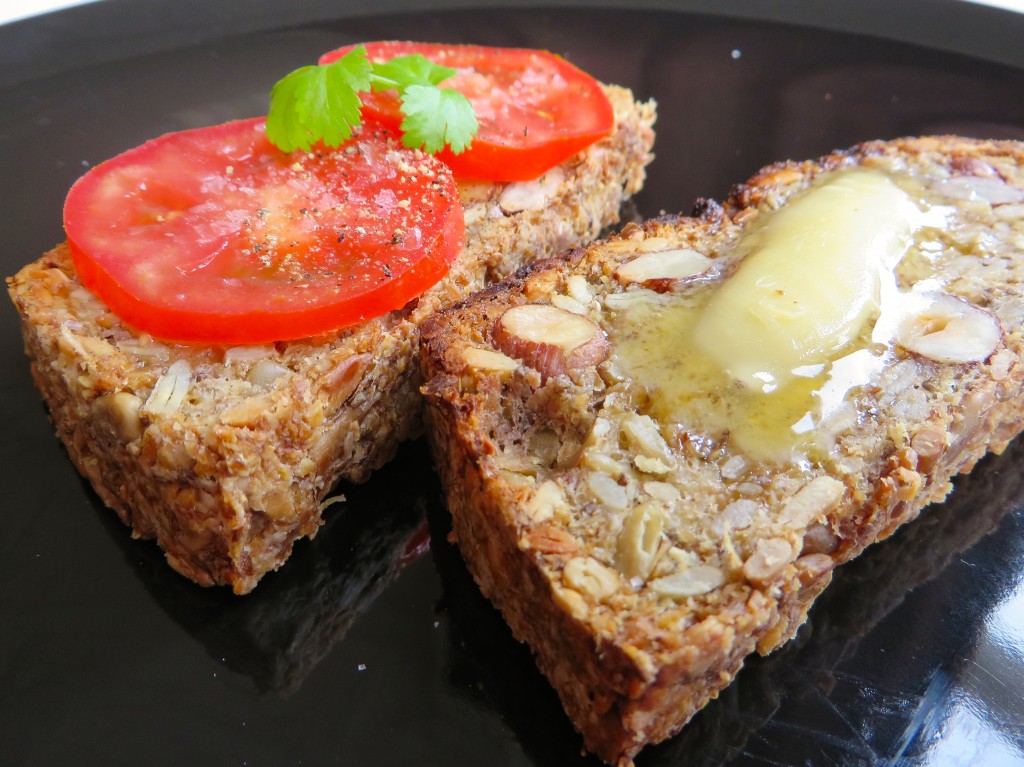 Try mixing it up a bit – use different types of nuts or throw in a handful of shredded coconut. Another variation is to make a sweeter version by adding cinnamon and raisins or dried cranberries.
Ingredients:
1 cup sunflower seeds
½ cup ground flax seeds
½ cup hazelnuts or almonds
1 ½ cups gluten free oats
2 Tbsp. chia seeds
4 Tbsp. psyllium seed husks
1 tsp. fine grain sea salt
1 Tbsp. maple syrup (for sugar-free diets, use a pinch of stevia)
3 Tbsp. melted coconut oil
1 ½ cups water
In a large bowl, mix all the dry ingredients together. Melt the coconut oil and combine with the maple syrup and water. Add to dry ingredients and mix well. The 'dough' should be moist but not sloppy.
Transfer the dough to the greased/lined pan and firmly press into the pan making sure it's in all four corners. Because the chia seeds and psyllium husks will absorb the water and bind everything together, we need to let the bread sit for a few hours. Therefore, you may want to let it rest for two hours minimum but you can also let it rest overnight as well.
Preheat oven to 350°F / 175°C.
Bake the bread for 20 minutes. Furthermore, remove from oven and carefully remove the bread from the pan. Either cook upside down directly on the rack or on a cookie sheet for an additional 40 minutes. You'll know it's ready when you tap the bread and it sounds hollow.
Finally, let cool entirely before cutting. The bread will firm up and cut into magnificent slices!