Homemade Baked Beans with Bacon on Gluten Free toast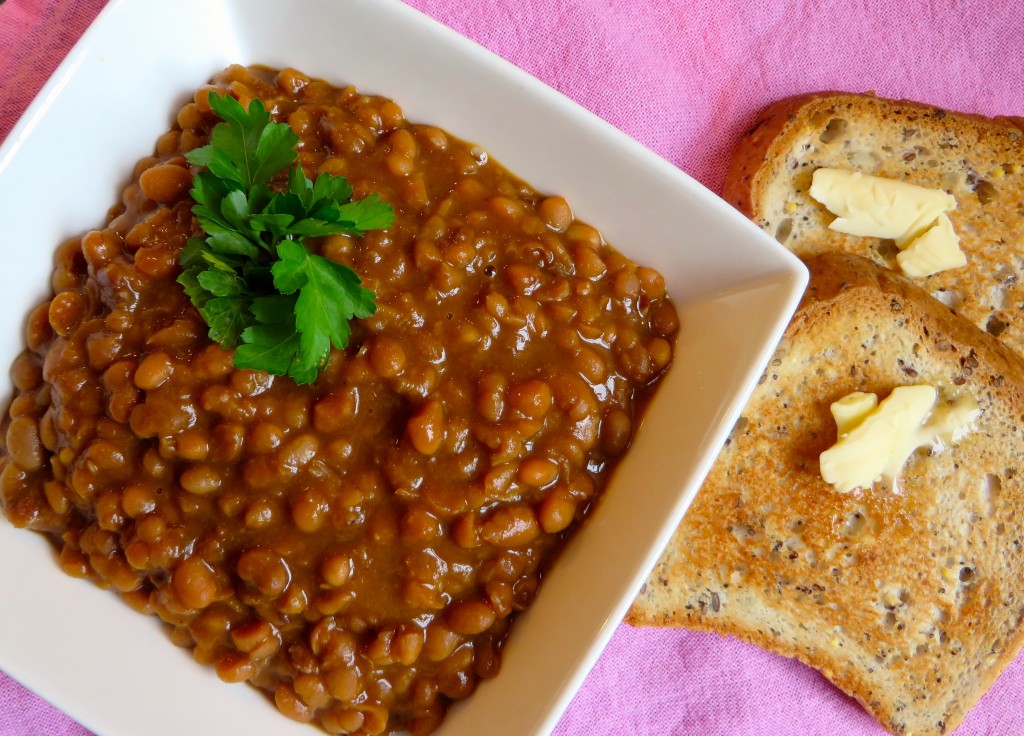 Who can resist homemade baked beans with bacon on gluten free toast.  This recipe comes from my aunt's mother-in-law who used to bring these beans to every family feast. They take a long time to cook but that's the secret to their great taste and flavour. And unlike store bought beans, they are not packed full of sugar or additives.  These can be made in a slow cooker or a bean pot if you have one on hand.
Ingredients:
1 lb or 500g dried white beans (I used Cannellini beans)
6 cups cold water
1 clove garlic
1 small white onion
2-3 slices of bacon, diced
1 tsp Cayenne pepper
1/4 cup molasses
1/4 cup ketchup (make sure your brand is gluten free)
2 tsp gluten free worchester sauce
1 tsp salt
1/8th tsp pepper
1 tsp dry mustard (make sure your brand is gluten free)
2 Tbsp brown sugar
1/4 cup minced onions
Wash beans well in cold water.  In a large pot, boil beans in water for 2 minutes. Remove from heat and let stand for one hour in the liquid.
Add garlic clove, whole peeled onion (keeping whole will make it easier to remove later), Cayenne pepper, bay leaf and bacon.
Bring to boil, reduce heat, cover and let simmer for 1 1/2 hours.
Drain beans from liquid, reserving the liquid (Do not throw out!). Remove onion and bay leaf leaving the beans and bacon behind. Don't worry if you can't find the garlic clove.
Transfer to a bean pot or slow cooker. Add molasses, ketchup, gluten free worchester, salt,  pepper, dry mustard, minced onion and 1 cup of the reserved liquid.
Bake in a deep been pot with lid at 250C or 150F  or a slow cooker HIGH for about 4 1/2 hours.  Keep checking to ensure the beans do not dry out. If yes, add more reserve liquid to keep moist. You can also use water if you run out of liquid.
Total prep/cook time = 7 hours so start these in the morning.
To reheat, add a splash of water to the beans before reheating. You can adjust the consistency of the sauce easily this way depending on your taste and personal preference.