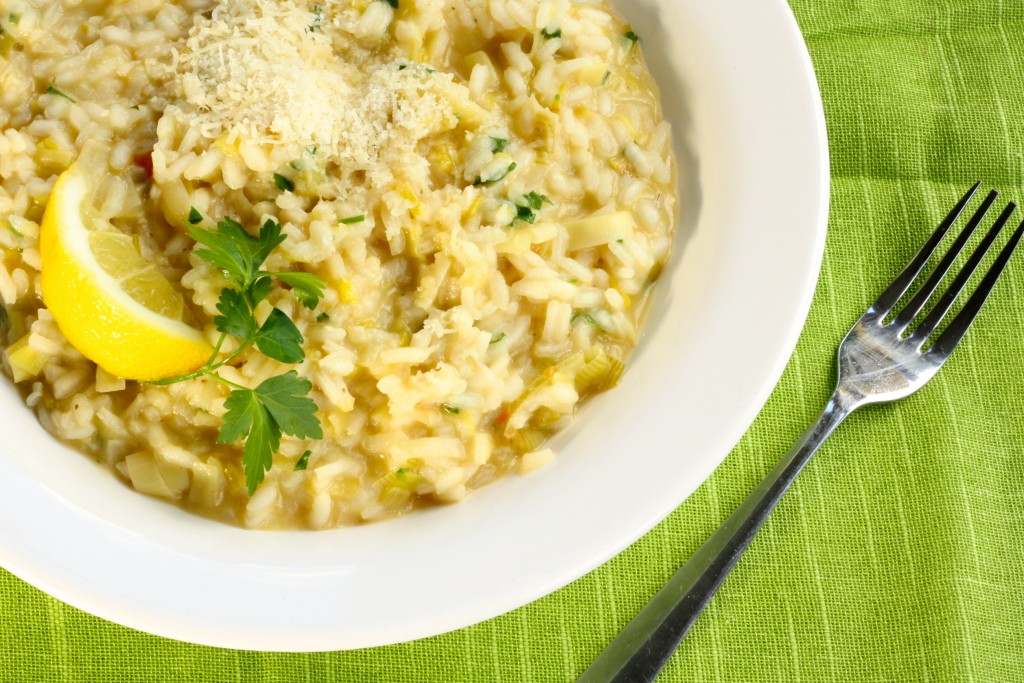 Here is a fantastic recipe for an easy Creamy Leek Risotto.  I don't know why I don't make more risotto dishes as they are super fast, super filling and super satisfying.  The joy of the leek is that unlike other risotto recipes that have onion and garlic as the base of the recipe, leeks provide all the depth needed for a luxurious and delicious dish.
Making risotto is very easy, as long as you follow the basic method.  Once you master that, the world is your oyster. There are so many variations possible, you could indulge in a different style of risotto each night and never get bored.
Another surprising fact about risotto is that it can be very healthy for you – when made at home.  The trick with an authentic risotto is that it should be served and eaten immediately. It takes exactly 17 minutes to cook a risotto, from the time you add the hot broth to completion.
For most mainstream restaurants, this process is too difficult to time so they are forced to use a ton of butter and cream in order to extend the shelf life of the dish.  This adds unnecessary calories and fillers to the dish.  A TRUE risotto is thickened naturally through the starch of the rice and is lower in fat if made to order.
For variations of this recipe, use onion and garlic (instead of leek) as a base, and fold in your pre-cooked favourite ingredients at the end along side your parmesan and herbs.  Adding some type of nuts are also a winner as it adds an extra crunch!
Leek Risotto (per serving)
2 Leeks, washed and thinly sliced (whites and light green parts only)
1 pint hot chicken or vegetable stock
1/2 cup or so of white wine
1 handful of risotto rice
2 tablespoons olive oil
1/2 Lemon, juice only
Chopped Italian parsley
1/2 cup or so of parmesan cheese
Salt and pepper to taste
On medium heat, add olive oil to pan and leeks.  Sweat down until soft.  Do not brown or caramelize. Once soft, add rice and cook for another couple minutes until rice starts to look translucent and absorbs the oil.  Add white wine and let evaporate slightly.
Set your timer – 17 minutes remember!?
Start adding a ladle of hot broth (I boil a kettle and use a gluten free stock cube) to just cover rice. Mix gently and let cook down for a few minutes.  Add more stock and continue the process until a few minutes before the 17 minute mark.  Don't over stir but make sure the rice is not sticking to the pan.  Over stirring can damage your rice and leave you with a mushy mess.
DING! Once 17 minutes is reached, remove from heat.
Add parmesan, chopped parsley, lemon juice and gently stir until mixed through.  Season with salt and pepper to taste.  Finish with an extra squeeze of lemon and fresh parsley.  Enjoy!