To Die For Gluten Free Twix Bars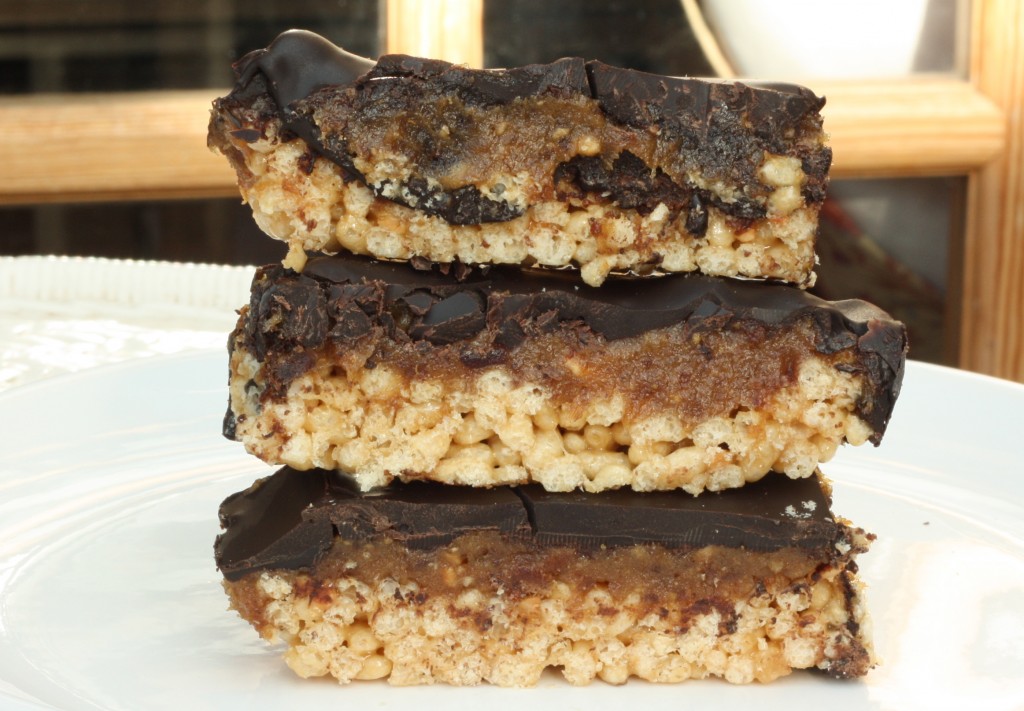 These To Die For Gluten Free Twix Bars are amazingly healthier and better than the original! Really!!! Now, I can say from experience…I am a huge fan of the Twix chocolate bar. But when my vegan friend brought these into work, I fell in love with a healthier version of my favourite chocolate treat.
This is easy to make vegan or dairy free.  Just use dairy free chocolate and you've got a dairy free, gluten free snack the entire family will enjoy!
With parchment paper, line a 9″ x 11″ baking pan.  Set aside.
Ingredients (Cookie base)
2 1/2 cups gluten free Rice Krispies
1/2 Cup Rice Syrup
4 Tablespoons Natural Peanut Butter (Smooth or Crunchy)
2 Teaspoons Vanilla
Sprinkle of Sea Salt
On medium heat, melt together rice syrup, peanut butter and vanilla. Once melted and starts to bubble, remove from heat.  Add a pinch of sea salt (optional). Mix well.
In a separate bowl, add gluten free rice krispies and carefully pour over the hot peanut butter mixture. Mix well. With wet hands, pour and press into the baking pan. Pop into the freezer for 10 minutes or so to set.
Caramel Centre:
2 1/2 Cups Soft and Pitted Medjool Dates (if too dry, soak in hot water for a few minutes and drain well).
2 Tablespoons Peanut Butter
2 Tablespoons+ Almond Milk
Pinch of Sea Salt
In a food processor, add pitted dates, peanut butter, almond butter and salt. Blitz until smooth and a thick consistency.  Add a bit more almond milk if needed.  The amount will depend on how moist the dates are and how well your food processor works.
Remove rice krispie base from freeze and spread evenly across the top.  Place back into freezer and start on your chocolate sauce.
Chocolate Topping:
1 Cup Dark Chocolate (Regular or Dairy Free)
1 Tablespoon Coconut Oil
On medium heat, melt chocolate and coconut oil together until smooth.  Pour and evenly spread over date and rice krispie mixture. Place back into fridge or freezer and allow to partially set.
The trick is to allow the chocolate to set, just until it is soft but not too runny. It's at this point you will cut the bars into strips or squares. If you allow the chocolate to set entirely, it will become hard and crack when cut. Cutting it in the middle of the cooling process will give you nice, smooth lines and a clean cut.
Cut into bars or squares and return to the freezer or fridge until ready to eat. But most importantly, remember to share!!!!